Trip Hawkins
Founder of EA, Games Industry Pioneer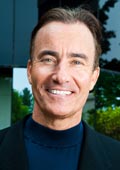 Trip Hawkins is a Hall of Fame game industry and digital media consultant. He also advises Digital Chocolate where he was Founder and Chief Executive Officer from 2003-2012, and has spent his entire career in new media. Digital Chocolate has made more than 100 award-winning social and casual games and is a high-volume publisher for Facebook, web and smartphones. Working for Steve Jobs and Apple Inc. from 1978-1982, Mr. Hawkins helped define and deliver products that came to define the PC industry. In 1982, he founded and spent 12 years building and leading Electronic Arts Inc. to become the largest independent game publisher. After Electronic Arts, he returned to the hardware platform business with 3DO, a pioneer in network content and delivery, digital video, graphics, and optical storage before founding Digital Chocolate in 2003.
Aidan Millott
Sydney Studio Manager, Halfbrick Studios
I've been working at Halfbrick for 4 years. In this time I have worked on projects like Fruit Ninja Kinect, Fruit Ninja: Puss in Boots and other DS and PSP titles. I'm a Programmer and as such I get to build all sorts of gameplay mechanics and systems. I recently started up the Halfbrick Sydney Studio and am the Studio Manager running a team of talented people.
Ben Marrinan
Game Designer, Halfbrick Studios
Ben moved from Adelaide to Brisbane to study Game Design, with my sights set on one day being a game designer. Immediately, after finishing study at the southbank institute of Technology (before going ton to a proper uni and getting a degree) Ben applied to Halfbrick and got the job. At the moment Ben is designing updates for Fruit Ninja and assisting in hiring new game designers.
Ivan Neeson
Kumobius Games
Ivan Neeson is the Chief Coderammer at Kumobius Games. Ivan worked at several game studios in Melbourne before starting his own company with the dynamic duo James and Tom Greenaway.
Scott Reismanis
Desura
Since 2002 Scott Reismanis has been crafting video game websites including ModDB.com and IndieDB.com which were built with the aim of connecting developers with their fans. Today ModDB.com and IndieDB.com reach over 2.5 million readers a month and have over a million registered developers. In 2009 Scott launched Desura.com a digital distribution store for PC gamers and later in 2011 IndieRoyale.com, a game bundle deals site. Both are focused on distributing awesome indie games and combined, have sold over 1 million games to 250,000 customers.
Mick Gordon
Freelance Audio Director
Mick Gordon is a freelance Audio Director whose ability to craft noises into sound and music has attracted companies such as Ubisoft, Electronic Arts, THQ, Marvel Studios, Warner Bros, Paramount Pictures, Nickelodeon and Sony Entertainment. He scored his first published video game at 17 before joining Pandemic Studios to work on Destroy All Humans 2. Mick soon felt the world of freelancing calling and set up Game Audio Australia. Since then, Mick has worked on close to 50 titles with his most recent work being heard at E3 with Dead Space 3, Crysis 3, Need for Speed: Most Wanted, Medal of Honor: Warfighter and Shootmania:Storm.
Andrew Goulding
Director, Brawsome
Andrew is the director and owner of Australian-based game developer Brawsome. Focusing on exploring comedy in games via the adventure game genre; using interactive narrative to develop rich characters and story, and incorporating modern gameplay mechanics that allow quick and easy adoption across a broad audience. Over 8 years professional programming experience in C and C++, developing highly complex interactive applications in the games and simulation fields. Proficient in the Lua scripting language, with primary application in adventure game scene scripting and mini-game development. Worked in the games industry professionally for over 7 years in QA, Programming and Production roles for 4 different games companies in Australia and the UK.
Christina Chen
Free-to-play Architect, Surprise Attack
Christina's first game experience was Command & Conquer and she's never looked back. Having a background in software engineering, she brought the advances in software development to gaming and found her happy place in free-to-play games. She was the producer on Zuma Blitz in the highly competitive Chinese market and worked on a number of other social and mobile games at PopCap.
Seon Rozenblum
Director & Lead Developer, 3 Sprockets
Seon has been an Independent Games Developer since 2006 when he converted his Animation and VFX studio, Sector3, into fledgling Game Studio and by 2009 had shipped over 12 titles on both Desktop and iOS devices. In early 2009, Seon sold a controlling stake of Sector3 to Trickstar Games, but after 15 months Seon had the realisation that his true passion was as a self run Indie so he sold his remaining shares and started up his new venture – 3 Sprockets. In March 2012, Seon released Cubemen on Steam, Desura, Mac App Store and iOS App Store (iPad2+) and it instantly became a world wide hit, topping the charts in all of the major regions and hitting #1 game in Australia and top 5 game in 38 countries.
Morgan Lean
Owner, Epiphany Games
Morgan Lean is the owner of Epiphany Games, developers of games and game related technologies. We developed the Emergent Games technologies Terrain engine for Lightspeed, we are developing our own Games and looking for other opportunities in the gaming space.
Andrew James
Director, Uppercut Games
In 2002 Andrew moved to Canberra to work as Lead Artist at Irrational Games/2K Australia, after leading the team of artists on many award winning projects, in 2009 he became Art Director of the Studio. In Late 2010, Andrew left 2K to form Uppercut Games with Ed Orman
Ed Orman
Director, Uppercut Games
Ed started in the video game industry in 1997 with Canberra-company Micro Forte, and in 2001 he joined Irrational Games/2K Australia, continuing his work as a designer on several award-winning games. In Late 2010, Ed left 2K to form Uppercut Games with Andrew James.
Rebecca Fernandez
Chief Marketing Officer, Convict Interactive
A typical indie developer, Rebecca has a hand in almost every aspect of development. However, the majority of her time is spent publicising Convict Interactive's games and liaising with developers, media and the public.
Tim Taylor
Lead Programmer, Convict Interactive
When he's not busy writing code on our next exciting project, he's busy working on completing his University degree.
Epona Schweer
Sydney Incubator Coordinator, Academy of Interactive Entertainment
On a quest to help people go indie, create great games and make a living doing what they love. Writing about it at indiebits.com, tweeting about it as @indiepieces and coaching folks going indie all over the interwebs.
Joe Millward
Director, Token Partners
Joe Millward has been working in the media and technology industry for over 14 years. He has developed expertise in identifying new trends in a wide range of digital media from gaming to social media and the rise of mobile. Joe's role as the Animation Business Manager at Autodesk saw him advise and consult with every major games and film studio in Australasia. As Gloria Jean's Coffees Digital Innovations Manager, Joe was responsible for all digital content and social media development where he produced the iPhone app which has had over 200,000 downloads to date. Building on this experience, as Director of Token Partners, Joe has assisted businesses with the marketing and development of digital media projects, from TV Series to Games and Mobile apps.
Leigh Harris
Director, Flat Earth Games
Leigh Harris worked for nine years in PR and Marketing roles at Take Two Interactive, then Rockstar Games. In 2010, he left and completed a Bachelor of Arts (Media and Communications) at UNSW, moving from there into games journalism. He has written for HYPER, PC Powerplay, Atomic, Kotaku, ABC's Good Game, Game Arena, MMGN and more, and is now the founding editor of MCV Pacific. He is currently the Head of Marketing for educational startup Brainworth, and a co-founder and Director of Flat Earth Games.